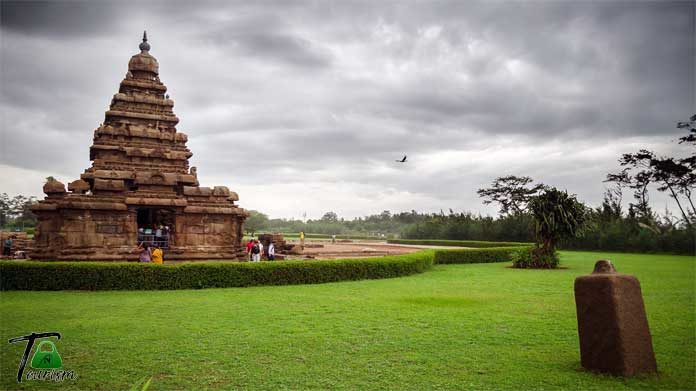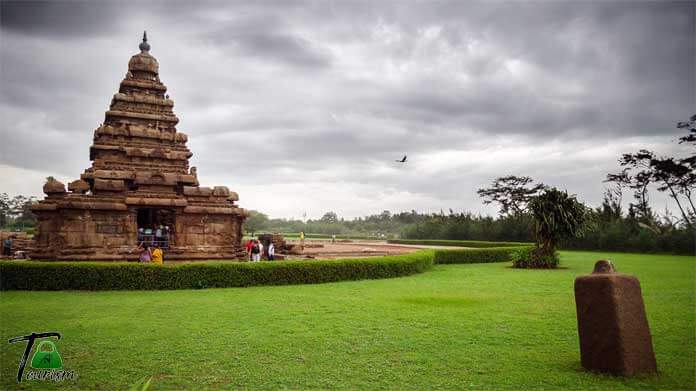 About Mahabalipuram:
Mahabalipuram was named by the Demon King Mahabali. Later on, he was killed by Lord Vishnu, The King of Pallava Narashima Varman has got the title of "Mamalla" and Hence he changed the name Mahabalipuram as Mamallapuram. Mamalla is also a Great Wrestler. It is located at a distance of 55 km from Chennai Central. It belongs to Kanchipuram district. There are three temples totally, one is Vishnu Temple and other two are Shiva Temples which was built by Narasimha Varman.
Mahabalipuram Photo Collections
Go like a PRO:
Budget💰: Take ₹1000 – ₹2000 for the best experience(Includes Entrance Fee, Camera Fee, Food, Snacks, Small kind of gifts).
Food: Non-Vegies🍖 – Seafood is special, There are plenty of shops available for fish. Veggies🍅- In general, there's nothing much to expect beyond your thoughts.
What's So Special?: Pancha Rathas, Lighthouse, Sculptures. Explore More.
Photoshoot📸:
Spots- Sea Shore Temple, Cave, Monument, Sculpture, Museum.
Apt for- Children, Friends, Family, Couples.
Natural photography lovers, Pre & Post Wedding Photoshoots are usually done here.
Stay/Hotels🏨: If you go with Family members, staying 1 day is recommended.
How to reach Mamallapuram:
The easiest way to reach Mamallapuram is by Bus.
By Bus🚌: Chennai – Mahabalipuram (Via- CMBT to Adyar to Mahabalipuram: Every 40 mins)

✓ Recommended.

By Train🚅: Reach Chennai Central Railway Station(MAS),  Chennai Central – Mahabalipuram by bus (Via- Chennai Central> Adyar -> Mahabalipuram: Every 40 mins) or Reach Chennai Central Railway Station(MAS),  Chennai Central – Thiruvanmiyur by Local Train, Thiruvanmiyur -> Mahabalipuram: by bus.
By Air🛩: After arriving Chennai International Airport(MAA), Airport -> Guindy (By Metro Train), Guindy -> Thiruvanmiyur(A/C Bus Available for every 30 minutes), Thiruvanmiyur -> Mamallapuram(A/C Bus for every 1 hour, Normal Bus for every 40 mins).
Culture in Mahabalipuram:
First, Pallavas Architecture and Styles are the best part. Second, There are 14 important Constructions in and around which includes following 3 mandapams.
Krishna Mandapam
Mahishasuramardhini Mandapam
Varaha Mandapam
As a matter of fact, the world loves Dance like a song. Yes, you can enjoy watching dance performance conducted by Tamilnadu Tourism Department on Saturdays and Sundays of the below mentioned month(Read more about timings). Puppet Shows are also performed by the trained group of people at the same time. Identically, The only Sea Shore temple in India is Mamallapuram Sea Shore Temple.
Approximate View Time:
Once you reach, it will take approximately 4-9 hours to explore the Mahabalipuram. Here is the list of things you could spend time with.
Beach: 1 hour.
Temple: 1 hour.
Sculpture/Monuments: 1 hour.
Lighthouse/Museum: 1 hour.
Other Sight Seeings: 1 hour.

✓ Recommended time: 7 hours.

Note: Entry time is 6 am- 6 pm.
Charges at Mahabalipuram Tourism💰:
From time to time Charges will change. Stil, presently this will work.
Entry charges for Vehicles: ₹10 – ₹50(Based on the category).
Camera charges inside Seashore Temple: ₹25 – ₹50(Based on Photo/Video Camera)
SeaShore Temple Entrance: ₹25 for Indians, ₹500 for foreigners.
Museum Entrance: ₹50 – fish world entrance,₹100 – museum entry, ₹100 – Camera, ₹130 – both(Museum+Camera) :).
Lighthouse Entrance: ₹10 for entry, ₹20 for Camera.
2/4 Wheeler Parking – ₹10 and ₹50(Based on the category).
Best Time to Visit Mahabalipuram Tourist Places:
October, November, December, January, February is the best time to visit. You may have a question what would be famous for those months. Here is an answer. As Above mentioned months are Post Monsoon and Winter Season, you will feel the Chill air, Cool, Cloudy and calm nature. Also in this seasons most of the people will visit Mamallapuram Sea Shore Temple.
On the whole, here is the list of Mahabalipuram tourist places.
Top Places to visit in Mahabalipuram: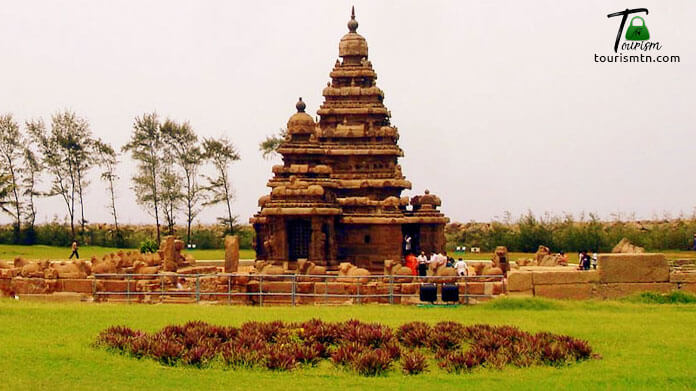 In the first place, Temple! it sounds like there must be a Priest. But the truth is there are no Priests in Sea Shore Temple, Mamallapuram. Normally in temples, god has been inside and no one can able to touch him/her. Conversely, there is only one Foot step inside the whole temple. Outdoor of the temple is such a big circumstance which you never thought. Clean Green Grass Surrounds Temple. TN Govt is maintaining all the places cleanly different from other places. Read More.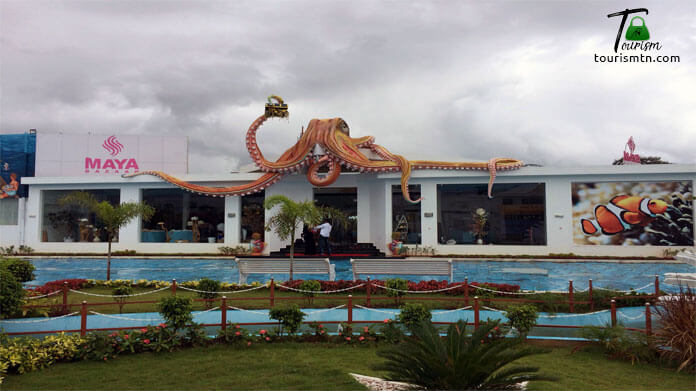 World's 2nd largest Seashell Museum is none other than India Seashell Museum. On the other hand, totally 40,000+ different kind of seashells is available, which is collected from all over the world. There are some seashells as small as coriander seeds. India Seashell museum is not only for Seashell museum, it also includes Pearl museum, Virtual reality Show and an Aquarium. Raja Mohamed goes all around the globe to research about seashell and collecting as much as he can and brings out the famous museum.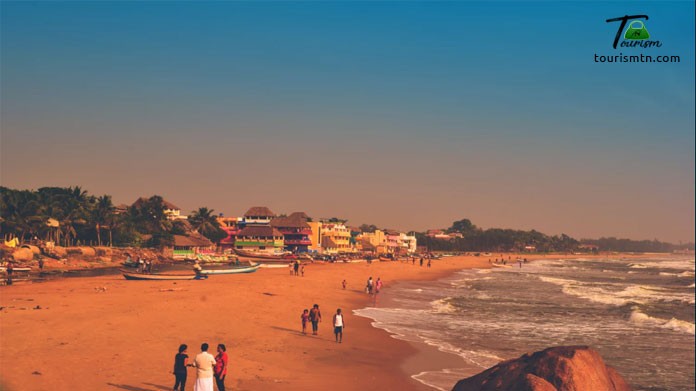 The Moment when we say Mahabalipuram Beach, it comes to our mind is Peace. Certainly, Don't try to play with the beach unless you're a swimmer. Swimmer? Still, strong waves are there to beat you. The Sunrise is much beautiful than you think. Comparatively, it is one of the amazing wider beaches with huge waves. It's a Huge Shore.
4. Light House: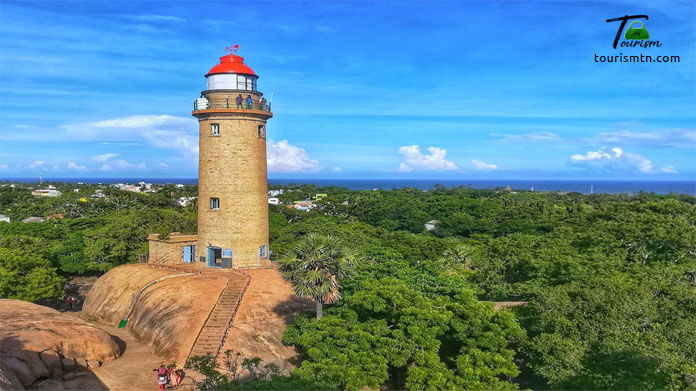 Over 20 lighthouses in Tamilnadu, Mamallapuram Lighthouse is the best and oldest one ever. In the final analysis, Mahabalipuram lighthouse is the special one. As a matter of fact, Design and Construction were made by King Pallava. Notably, it appeared in 1887. Later in 1904, it was operable officially. The 26-meter lighthouse is visible at a distance of 30 nautical miles which is the source of Power.
5. Gift & Sculpture Shops: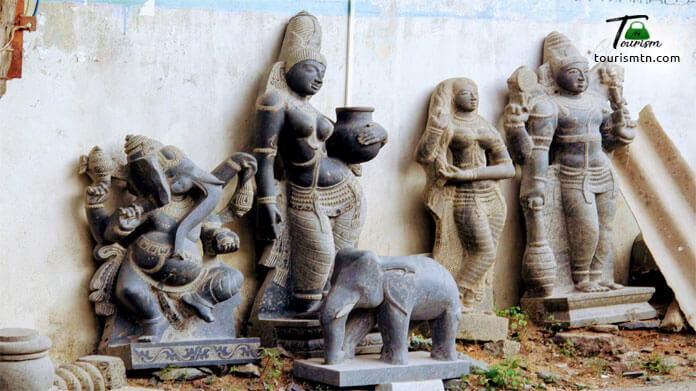 From time to time whenever we take a trip, we like to keep some memories in our Google Photos. Here you go! Sculpture and Gift shops which are exquisite. Particularly, you can see most of the Hindu Mythological sculptures and Buddhist sculptures here. Most of the Sculptures were cut out by one single Rock. In other words, if you come here you'll say as "A real visual treat to see the sculptures". Making this much of exact sculptures are really hard.
6. Pancha Rathas: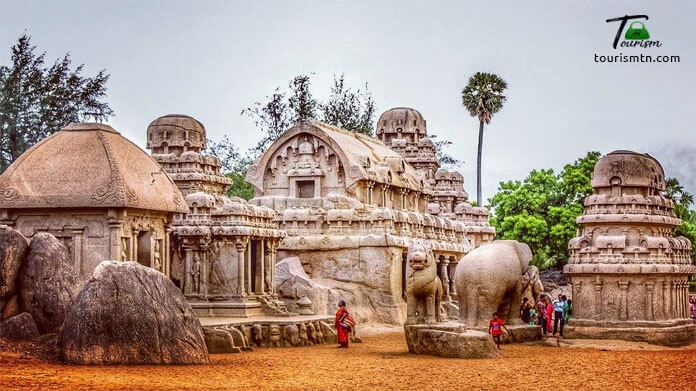 Pancha Rathas, the word itself says Five Rathas. Here is the list.
Arjuna's Ratha
Draupadi Ratha
Bhima Ratha
Dharmaraja Ratha
Nakula Sahadeva Ratha
Magnificent monolithic rocks are used for the construction of all identical Rathas. Moreover, they use Dravidian style architecture to build these Rathas.
7. Arjuna's Penance: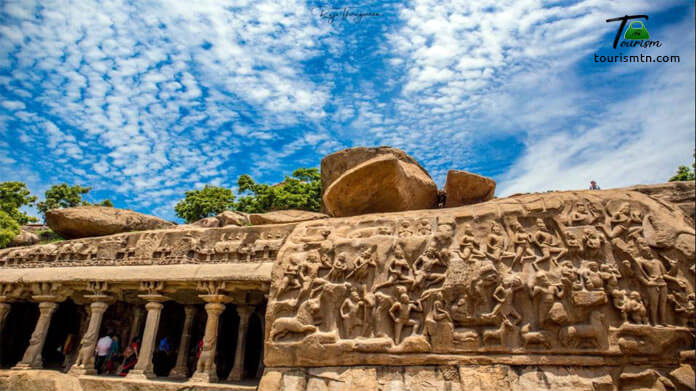 Arjuna's Penance is originated from Mahabharata. It may be an Arjuna's Penance or the Descent of the Ganges or it can be of both. With the Intention of showing Pallava's style and architecture, they made it 30m long and 15m high. The meaning beyond Penance is "Gain Power". In fact, a single photograph can't cover full structure of Arjuna's Penance. Alternatively, you can see with your own eyes for more reality. So enjoy a visual treat in life rather than trying to cover the whole picture.
8. Monuments: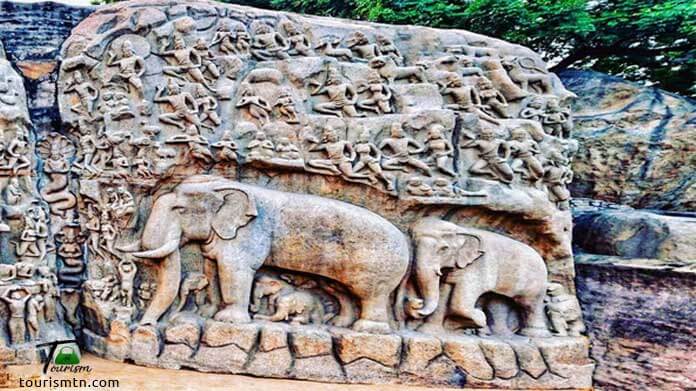 The Govt says, "A World Heritage Monument. Monuments of Mahabalipuram has been inscribed on the world heritage list of the convention concerning. The protection of the world cultural and natural heritage inscription on the list confirms the exceptional universal value of a cultural or natural side which deserves protection for the benefit of the humanity." The Monuments here are very rare one and oldest one. You can see the work behind the monuments when you visit. This one is closely coupled with Arjuna's Penance.
9. Tiger's Cave: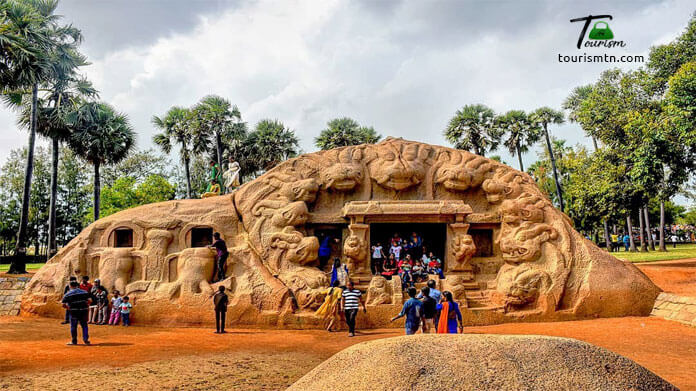 The first thing to remember is, Tiger cave is the archaeological place. The tiger cave is a cave in Mahabalipuram which has carvings of a tiger on the cave mouth. Identically, this is one of the very beautiful and undisturbed places in Mamallapuram. Again, this is an archaeological place.
10. Krishna's Butter Ball: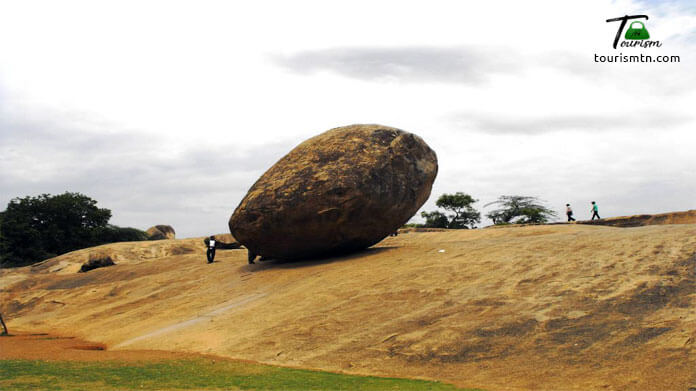 We're talking about gigantic granite boulder, known as Vaanirai Kal. Notably, a 250-tonne boulder that sits on a 45-degree slope. In 1908 Governor of Madras Arthur Lawley has tried to move the Butter Ball with the help of 7 Elephants. At the end, not only the Governor failed on this mission, but also Elephants failed in this mission.
Nearest Attraction you might see 🏍:
1. Kovalam – 19KM.
2. Vandaloor Zoo – 43KM.
3. Muttukadu Boathouse – 21KM.
4. Mayajaal Multiplex – 27KM.
5. Marundesuwarar Temple – 46KM.
---